---
Weekend Retreat at the Omega Institute,
October 7 - 9, 2022

~ Read Participant Responses from the 2019 Retreat!!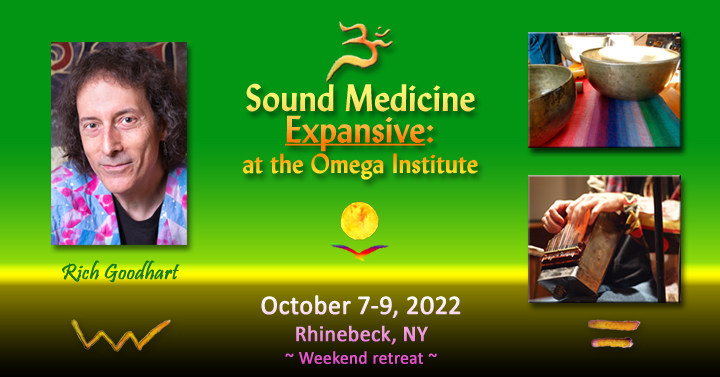 SOUND MEDICINE EXPANSIVE:
Awaken the Healing Power of Sound

with Rich Goodhart

****For REGISTRATION and housing, please visit the Omega website:
eomega.org/workshops/sound-medicine-expansive
Or call Registration: 800-944-1001
(NOTE: tuition is $325 for the weekend, housing is extra.)

~ ~ ~ ~ ~

Use the profound efficacy of sound healing to deepen your healing practice with Rich Goodhart.
Sound is a universal pathway to Source. Applying it consciously is one of the most powerful tools available to an energy healer. Shamanic Sound Healing is a potent form of energy medicine that can effectively transform our mind-body states, bringing new awareness and real healing attunement. The most significant sound healing instrument we have, our own voice, carries the vibrational essence of one's embodied truth, directly channels our emotional field, and can be a dynamic catalyst of personal evolution.

This transformational retreat is imbued with deep commitment to integrity and grounded wisdom as we engage sound's ability to inspire healing responses, expansion and renewal in all aspects of our being. We learn group and personal sound practices in complement with master practitioner Rich Goodhart's exquisitely multidimensional sound medicine immersions. Rich brings lifetimes of sound experience, along with his collection of exotic world instruments, to inspire the journeys.

Great for those looking to deepen their sound practice – and anyone interested in self-healing.
~ ~ ~ ~ ~ ~ ~

Rich Goodhart is an internationally respected world music multi-instrumentalist, composer, recording artist, gifted master shamanic sound healing practitioner, Qigong/Taiji teacher, author and Omega Core Faculty instructor. His newest album of sound medicine meditations is titled Forest River Pathway. His second book of luminous invocations and sound healing essays is titled The Sound Inside The Sound.

Suggested reading:
The Sound Inside The Sound, Rich Goodhart
***Also, new book coming in 2022....***
---