Rich Goodhart music dousongoni berimbau sanza hand drums native american
flute melodica bouzouki dulcitar jaw harp percussion keyboards and more


info & updates - concerts - recordings - music - books - video - gallery - mystery school - links - home

"Rich Goodhart's music is a powerful portal we can all use to tap inner knowings...
... a wisdom only accessed through the senses.
So grateful for his artistry and spirit."
~Whitney Freya

---
"To me Rich is a sensitive, innovative, and audacious musician. His sense of humor is subtle yet penetrating.
His music grasps, relaxes, and takes you places. He is truly an authentic modern shaman!"
~ Marcela Lobos, www.marcelalobos.com
---
Endorsements
- Testimonials
-
DONATE/SUPPORT

*** NEW BOOK!!!***
Now available as of the Autumnal Equinox, 2013
"The Sound Inside The Sound"
~ Spirit Medicine for a Renewed Earth Consciousness ~
More Info (& purchase online)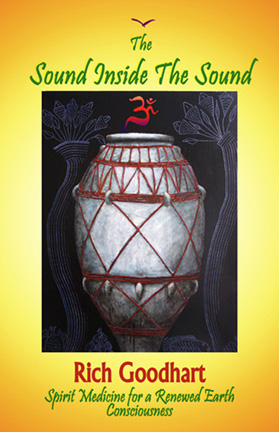 "Shaman Mirror Medicine Tree"
NEW RECORDING, 2010 ~ 2 CD set!!
Progressive world rhythm cross-cultural shamanic journeys
& spirit cleansing earth aligned healing sound meditations.
Including guest collaborations with Daevid Allen of GONG,
Jon Anderson of YES and Jim Ballard.
More Info (& purchase online)



"...a modern spirituality expressed in sound..."
~ Keri Ford, artist, Aotearoa (New Zealand)
---
"Those who dream by day
are cognizant of many things
which escape those
who dream only by night."

~Edgar Allan Poe

info & updates - concerts - recordings - music - books - video - gallery - mystery school - links - home


---

Copyright 2000 - 2016 Rich Goodhart/Beginner's Mind Productions.
All rights reserved to Rich Goodhart
***All text, sounds, logos and images on this site are copyrighted by Rich Goodhart, unless other authors are indicated,
and are not available for commercial or public usage without prior expressed written consent.